Paulita Neff
SaddleUp, LLC
paulitaneff@gmail.com
(540)830-2713
Enjoy trail riding? Endurance riding? Looking for comfort for both you and your horse in your trail riding saddle or your endurance saddle on those long and sometimes rugged trails?  Welcome to Saddle Up, LLC. Our innovative treeless saddles by Freeform provide unsurpassed comfort and freedom for many disciplines of riding including trail, endurance, competitive distance trail, dressage, and jumping.
Why Treeless Saddles?
Riding your horse in a treeless saddle is like a dream come true for you both – finally, a saddle that maximizes your connection for balance, freedom and comfort.
Freeform saddles provide extraordinary comfort for you and your horse. The experience of sitting in a treeless saddle is similar to bareback riding, only much more comfortable and safer. You have very close contact with your horse. You immediately experience the wonderful feeling of your horse's free, muscular movement and rhythm beneath you. You feel comfortable and secure in your seat, not to mention your improved balance. You feel relief from back, knee and neck pain.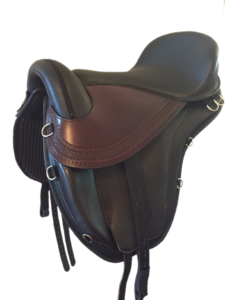 Another definite advantage to these saddles is that no specialist is required for fitting: one saddle fits almost every horse's back, period. As a result, your horse experiences unparalleled freedom of movement.
These lightweight saddles are easy to handle when tacking up. They are suitable for most types of riding with distinctive characteristics that appeal to rider and horse preferences.  We pride ourselves on our customer service to help you make the initial small adjustments available to you to have the perfect fit for you and your horse.