Description
What April needs for a Distance Reading session:
Please email to April 2 photographs of your dog standing on a flat hard surface with head up and neck straight in a relaxed stance. One picture of the left side of the dog one picture of the right side of the dog along. Include the dog's name, age, sex and goals for the dog. In addition include any specific surgeries or injuries that the dog has undergone.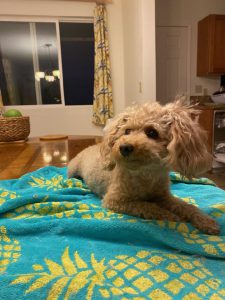 Testimonial:
This is the funniest thing! Jazzy won't get down from the table where you worked on her. She kept using the chairs to hop back up there. She's never done that before-we think she really loved it and wants more! Haha thanks again April.
Yes we are interested in the home study program for dogs now!
Alanna, Maui